Commissioner Raelane Interview
By Matt Zaza




Matt Zaza: What is your pro wrestling background?
Commissioner Raelane: I've been the Far North Wrestling ring announcer for almost 4 years. I've been a manager for about 3 years with B.E.E.R. Wrestling, Asylum Championship Wrestling, and the Championship Wrestling Federation.

MZ: How do you feel about becoming the commissioner of Pgh Pro Wrestling?
CR: I'm extremely honored that the Executive Board feels that I have what it takes to help make Pittsburgh Pro Wrestling become the best independent wrestling organization in Pennsylvania, and I promise that I'll do my absolute best not to let the fans of Pgh Pro down.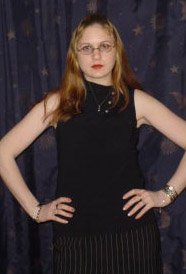 MZ: What are your goals as commissioner?
CR: To give what the fans what they want! And to make sure that the company is represented by the best, most talented wrestlers around.
MZ: What do you think about the outside interference from Drew Lazario and Mayor Mystery at the Rumble in the Rox 2?
CR: I think it's absolutely wrong! The fans want to see matches decided fair and square, not by outside individuals who have no right getting involved. I promise, now that I'm commissioner it won't happen anymore!
MZ: What are your thoughts on the #1 contender situation?
CR: I believe that Powerhouse deserves another shot at the title due to Drew Lazario's and Phoenix's interference. If I can't get that to happen then maybe we'll just have to have a tournament to decide the number one contender.
MZ: Before becoming commissioner you managed Kevin Grace. How do you respond to critics who say you will favor him in your new position?
CR: Simply not true. I really enjoyed managing Kevin as part of Club 21 and as a singles competitor, but he and I would have parted ways even if I wasn't made commissioner. No hard feelings, just time for a change. Trust me Matt, there will be no favoritism of any sort as long as I'm in charge.
MZ: Exactly how much power do you wield?
CR: Well I still answer to the Pgh Pro Executive Board. All decisions must be approved through them, including which matches are signed. They needed someone to enforce their decisions, and felt I was the right person for the job.
MZ: So we could say that you are the "mouthpiece" and "strong-arm" of the Pgh Pro Executive Board?
CR: Yes, exactly!
MZ: What can we expect from Pgh Pro now that Commissioner Raelane is in charge?
CR: You can expect that we'll go to the top and deliver the best wrestling talent and action that we possibly can. I hope the fans are as excited as I am about me becoming commissioner. I truly believe with their help I'll be able to do the job that is expected of me with confidence and pride!


What do you think of Raelane being named Pgh Pro Commissioner?
Click here to share your thoughts on our message board!





ROSTER | EVENTS | RESULTS | MERCHANDISE | HISTORY | FORUM | HOME