Interview with Mayor Mystery
By "Smart" Mark K. Fabe





"Smart" Mark K. Fabe recently sat down with Mayor Mystery, the alleged mayor of Parts Unknown. Below is an excerpt from the interview.


MF: Mayor Mystery, thank you for taking a few moments to talk to me for the Pgh Pro Website.

MM: You should be honored, Mark. Not only are you talking to a well-respected elected official, a MAYOR, you are talking to a wrestling legend. I am Mayor Mystery … yes, THE Mayor Mystery.


MF: Mr. Mayor, you claim to be the mayor of Parts Unknown. But "Parts Unknown" has long been a phrase used in wrestling when a grappler's home town is not known. Can you explain?

MM: I get the "phrase to describe an unknown hometown" thing a lot. But how do you KNOW Parts Unknown is not a real town? Many fools, such as yourself, have long assumed Parts Unknown to be simply a phrase used when a wrestler's hometown is unknown. But that is false. You know what happens when we assume, Mark. Parts Unknown is a real town. It just happens to be a town with a unique name, like Slippery Rock, PA or Intercourse, PA.


MF: I see. Well then where, exactly, is Parts Unknown located?

MM: Part of the charm of Parts Unknown is that it's not overly developed. It still has that quaint, hometown feel. I don't want it being overrun by rabid autograph-seeking wrestling fans, so I'm going to keep that to myself. If you're too dumb to use an atlas, well then that's your problem.


MF: Can you at least mention what state it is in?

MM: No. The only clue I'll give you is that it's within an hour drive from Gotham City. Not too far from Atlantis.


MF: So you are the Mayor then, is there a Deputy Mayor too?

MM: That's none of your business. The inner-workings of the Parts Unknown government is knowledge reserved for our fine citizens.


MF: Well, if you are an elected official, are you a democrat or a republican?

MM: I'm not a member of either of those parties. I'm a member of the Helping Everyone and Eternal Life party, also know as the HEEL party.


MF: What is Parts Unknown's chief industry?

MM: We have a number of thriving businesses in various industries in Parts Unknown. Our chief product is cloth masks. We also produce a lot of face paint, salt (for throwing in people's eyes), canes, and poultry.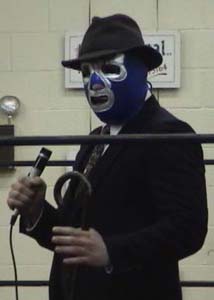 ROSTER | EVENTS | RESULTS | MERCHANDISE | HISTORY | FORUM | HOME