Gregory and Raelane involved in confrontation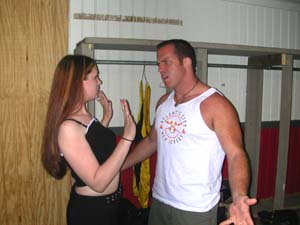 A tense confrontation between PGH PRO stars took place at a recent FNW show. Dennis Gregory, former PGH PRO Champion, made a surprise appearance at the event and wasted no time getting in the face of PGH PRO Commissioner Raelane, who was also appearing on the show.

Gregory demanded to know why he was "stripped of the title." Gregory's statement of course refers to the fact that the PGH PRO title was held up this past January. Before the title was held up, Gregory had been champion.

Commissioner Raelane, who was as shocked as anyone to see Gregory, explained to him the Board of Director's decision.

"I told him, since he was unable to defend the title at the Rumble in the Rox 3 and since the rule book states that the title must be defended every year at that event, we had no other choice," she said. "He may not like it, but we had to do what was in the best interest of our fans."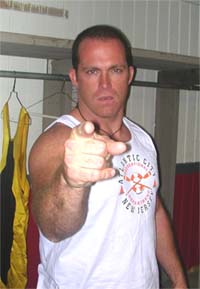 Gregory was also incensed that a new PGH PRO Champion had been crowned.
"This is bologna!" Gregory stated. "I'm out defending this country while all you fat pieces of crap sit in front of your TV getting fatter. I'm a hero, and this is how I get rewarded? And of all the people to win the title I can't believe it's Powerhouse Hughes! I wrestled that moron and beat him; he never beat me."
Raelane went on to say that Gregory will receive a title shot in the future.
"We all appreciate what Dennis is doing," she said. "When he returns, Dennis will be first in line for a match with the champion."
Gregory had a few final words before storming out of the arena.
"I never lost that belt, my belt, in the ring," Gregory said. "Powerhouse better not get to used to having it, because as soon as I get back from Germany and get my shot, the gold will be back home around the waist of the one and only Golden Grappler, me!"



What do you think of Gregory's comments?
Click here to share your thoughts on our message board!





ROSTER | EVENTS | RESULTS | MERCHANDISE | HISTORY | FORUM | HOME