Commissioner Stevens Interview
By Matt Zaza




Matt Zaza: First of all, let me congratulate you on being named the interim commissioner of PGH PRO Wrestling.

Commissioner Stevens: Thank you very much, Matt. I'm very excited to be joining PGH PRO in this capacity and looking forward to working with all the great grapplers in this company. Commissioner Raelane has been doing an excellent job, but now she's on maternity leave, so I'll be filling in while she's gone.


MZ: Can you tell us a little about your background in pro wrestling?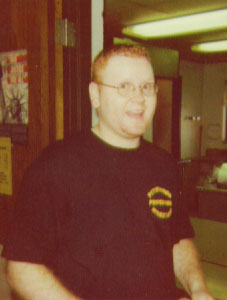 CS: Well, I started out working in the back office of Asylum Championship Wrestling in Johnstown. From there I went on to do play-by-play for FNW, APWF, and B.E.E.R. Wrestling. I've also done some work for the B.E.E.R., FNW and CWF Wrestling websites. But most importantly, I served as FNW Commissioner for over a year, so I have some idea of what the job entails.


MZ: What can we expect from you as PGH PRO Commissioner?

CS: I pride myself of being a "fan-friendly" commissioner, much like Raelane, and so I've been asking fans, "What do you want?" The overwhelming response is for Powerhouse Hughes to face Dennis Gregory at the Rumble in the Rox 4. So that is my main mission, to get that match signed!


MZ: Can you tell us any details regarding the Rumble in the Rox 4?

CS: The details are still being worked out, but I can tell you this: expect to be entertained. You know, I attended all three previous Rumbles and I thought they were great events. Kamala, Larry Zbyszko, Powerhouse Hughes winning the title and getting rid of the Parts Unknown Posse, all great stuff! So much like the fans who attended.

MZ: There are rumors that you have been meeting with CWF Commissioner Burt LeGrand. Any comment regarding this?

CS: (laughs) Yeah, I'll comment. When I took this position, I thought about how PGH PRO could offer the fans the very best in Sports Entertainment. I was thinking about other promotions, the giants like WWE and TNA, and other smaller regional feds like APWF and FNW, etc. That gave me an idea: why not work together to provide an even more entertaining and exciting event? Pool our resources, our talent, and put on a cross-promotional event for the fans of both organizations. Well, I've been talking to Burt, and we've reached an agreement. The Rumble in the Rox 4 will be the first ever cross-promotional event between PGH PRO and CWF Wrestling!


MZ: That is a blockbuster announcement!

CS: Yes, we are very excited! This is a great opportunity for some cross-promotional matches pitting the grapplers of PGH PRO against the stars of CWF.


MZ: I understand that Mayor Mystery has contacted you about rejoining PGH PRO?

CS: Yeah, I got a call from that guy and he wants me to lift the ban on him and the Parts Unknown Posse. I told him, you signed a contract at the Rumble in the Rox 3 for a loser-leaves-town match, now you have to live with the consequences. But then I started thinking. No one misses the Mayor, but as much as he was hated, didn't you love to see him get his butt kicked? I know I did. Ultimately I am going to leave it up to the fans to decide if they would rather let the Parts Unknown Posse continue to be banned or if they want them to be reinstated. And if they are reinstated, I guarantee that I'll have a plan for them. Let me just say to the Mayor, "Be careful what you wish for, because you just might get it."


MZ: Anything else to add?

CS: Yes, I encourage the fans to mark their calendars because come November 4th, it's showtime!




What do you think of Rusty Stevens being named PGH PRO Commissioner?
Click here to share your thoughts on our message board!





ROSTER | EVENTS | RESULTS | MERCHANDISE | HISTORY | FORUM | HOME